Rocket Up (At The O2 - For Groups!) (40 mins)
Rocket Up (At The O2 - For Groups!) (40 mins)
10,343

reviews
Fancy a two in one, adrenaline-filled adventure? Come and join Thames Rockets for a thrilling speedboat experience that'll be sure to blast you and your pals to new heights…
Gather your gang and hop on our red rocket speedboats for a 35mph joyride, followed by a heart racing 52 metre climb to the very top of the incredible O2 Arena. 
Blast your way from the iconic London Eye Pier for 40 minutes of pure adrenalin-filled, sightseeing fun! Take in the beautiful London skyline as our award-winning comedy guides fill you in with their never ending knowledge of the city. If you think this is a normal sightseeing tour… think again! 
Once at Tower Bridge, it's time to hold on tight and brace yourself as we zoom through Canary Wharf all the way to North Greenwich! Give our superb skippers a wave as they pull the throttle and twist and turn you past some of London's most iconic landmarks - being windswept never felt so good! 
You'll be singing your heart out to our Thames Rockets trademark medley of classic hits - guaranteed to have everyone grooving in their seats. 
But it doesn't stop there! 
Once you reach North Greenwich it's time to disembark and get ready for the next part of your daredevil day…
At The O2 the action doesn't just happen on stage, it also happens 52 metres above ground on the very top of the roof! 
Feel like an A-lister as you walk on top of the venue that has been the home to world famous artists like Ed Sheeran, Beyoncé and MANY more! 
Suit up and boot up as you prepare for an incredible 30 degree incline! If this gives you cold feet, don't worry, you'll be joined by the best climbing experts who are on hand to keep you safe (and teach you a little bit of O2 history at the same time!).
If this hasn't already impressed you, get ready to see 360 panoramic views of the historic Greenwich landscapes including the Olympic Park, Tower Bridge, The Shard and don't forget, you may even see a beautiful red speedboat zooming by! 
Ready to experience something out of the ordinary?
*Minimum age: 8 Years Old 
*Minimum height: 1.2 metres 
*Maximum weight: Not weight more than 21 stone/130kg/286lbs 
*Maximum Measurements: Maximum wasit measurement 125cm, maximum upper thigh measurement 75cm 
*Under 18's please ensure your booking includes the relevant ratios of adults to children: 8-17 year olds - 1 adult to 5 minors 
Please note: When making your booking you will choose the time for your speedboat experience. Once the booking is confirmed you will receive a call from our bookings team to confirm your Up At O2 Climb.
CLOSURES:
November 2023: Every Tuesday.
December 2023: Every Tuesday, Sunday 24th to Tuesday 26th.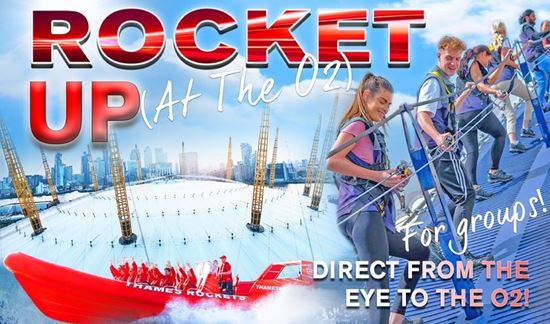 "IF IN LONDON 100% DO THIS"
Absolutely amazing - I live in London and can't believe we have never done this before! we have done most things and this defo tops everything - it is worth every penny the thrill you get is amazing - the tours are just amazing we laughed the whole way down the river. This would make the perfect gift as well!
"Highly recommended!"
Excellent! So good. Virus, what virus! Social distance all in place and more. Really helpful staff, had such a blast, pardon the pun. Stacey, so funny. Adam, made it very enjoyable and (really sorry) the person who checked us in so helpful and funny.
"Don't miss this experience"
This was the best moment for our 3 children (9, 13 & 15 years) during our visit of London. This is a good way to see some monuments of London & to have fun. Speed, emotions & smile guaranteed!
"Do not miss !!"
Fabulous trip-do not miss this !! Been many times to London but never tried this and it's highly recommended. Amusing tour guide it's just the right note and when speed and music kick in its fantastic fun. Was dusk when we started definitely best time of day as Thames is well lit and all seems extra exciting. My 11 yr old niece loved it too !!
---
What you'll see