Licence to Thrill (50 mins)
Licence to Thrill (50 mins)
10,343

reviews
The release date for 'No Time to Die' is finally upon us – and what better way to celebrate than speeding down the Thames - 007 style?

Take time out from the every day and dive into a world of undercover adrenaline! Brush down those tuxes, it's time for a London adventure to leave you shaken AND stirred.

Your mission: To race through the heart of the capital on board a cutting-edge, hi-tech speed boat – just like in the movies!

Get ready to laugh the whole way as your hilarious 'undercover operative' provides you with first-class espionage entertainment, but wait... there's more! 

HOLD ON TIGHT and brace yourself as your highly-experienced 'private chauffeur' takes you and your fellow spies for the ride of your life! Twist and turn through London and speed along the Thames like a true undercover agent. 

Don't forget the tunes - fly through the years with a bespoke 007 soundtrack and BE Bond before you SEE Bond!

Now there's an experience TO DIE FOR...

Mission accomplished!
For group booking enquiries contact us: bookings@thamesrockets.com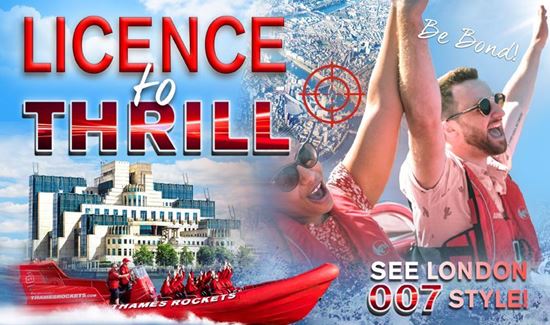 "We are BOND"
Me and my partner love Bond so when we saw this we were sold. It did not disappoint, we felt like secret agents from the moment we arrived. Great memories.
"Thrill Seekers Dream"
Wasn't sure what to expect but relatives and friends had been on these experiences in the past. The host was hilarious and really got us participants involved, before we knew it we were speeding down the Thames! Only way to describe was like a roller coaster on water - insane!
"James Bondtastic!"
Perfect for a James Bond experience with tunes that set you in the mood. Lovely see-sighting of iconic buildings in London and great pub reviews from Dave, our tour guide. Big up to Nick for driving us super fast! Heartily recommend.
---
What you'll see
London Eye
Houses of Parliament
Somerset House
London Bridge
Tate Modern
Shakespeare's Globe
The Gherkin
The Shard
HMS Belfast
Tower Bridge
Canary Wharf
Cleopatra's Needle
St Paul's Cathedral
The Tower of London