The Exclusive London Adventure (50 mins)
The Exclusive London Adventure (50 mins)
10,343

reviews
Thames Rockets invite you to experience a Thames river cruise 21st century style.
This is a private experience on our 'Ultimate London Adventure' - our most popular speed boat London experience and the original speed boat Thames sightseeing London tour that most certainly started it all. For anyone and everyone who wants a London day out full of famous sights with all the added thrills and spills of racing on our industry leading fleet of Thames Rockets.
Blast your way from the iconic London Eye pier for 50 minutes that will stay with you forever. Take in the incredible sights from Big Ben to London Tower Bridge. Our quick witted London tours are provided courtesy of hand-picked award winning guides straight from the stand-up and acting circuit. Also closet history buffs by nature, their sole purpose is to provide history tours in London like no other. Think you know the city? Think again!
Once under Tower Bridge, it's time to tighten your grip on the 'Ultimate London Adventure' thames river cruise.
Hear and feel the 880 horsepower engines rev up Rocket style and whoop as you whoosh up to speeds of 30 knots (35mph!). We'll twist and turn you through the docklands with a bespoke medley of thrilling classics pumping through our cutting edge on board sound system. Everyone from Grandma to the Grandkids will be singing along with delight as you experience the #1 London tour.
We've taken out thousands of satisfied passengers on our classic 'Ultimate London Adventure'. Now is the time to experience one of the top things to do in London.
Combining the funniest guides and most experienced skippers, Thames Rockets have held the #1 spot in our category on TripAdvisor for over 10 years – and we have no intention of that ever changing! Above all your safety is always our priority with your enjoyment a very close second. Our river Thames cruises are guaranteed to change the way you see the capital forever - without doubt it is one of the leading things to do in London.
Are you ready to take on the 'Ultimate London Adventure'?
*The Ultimate London Adventure departs from the London Eye Pier opposite Shrek Adventure London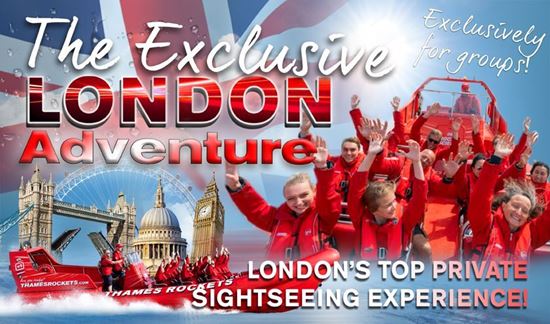 "Third time, still a hit with the team"
Thames Rockets has become a regular favourite on the team calendar. It is the one thing we now all look forward to. Completely different and perfect for everyone in a company. Great find.
"What an amazing experience"
One of the best experience I ever had. Great service and excellent value for money. I would love to do it again. Thank you Thames Rockets.
"Simply Fantastic!"
Went for this trip as part of a works Christmas party. The trip was amazing from start to end and the timing just right to make sure that saw London at its best, with the sun setting and the twinkling Christmas lights. Truly thrilling experience and brilliantly entertaining guided tour back by guide Stacey!
"Great way to celebrate a birthday!"
Excellent trip up the Thames. The staff were fantastic on the boat and it was great to get a different view of all the normal landmarks along the Thames! Must do!
"Don't miss this experience"
This was the best moment for our 3 children (9, 13 & 15 years) during our visit of London. This is a good way to see some monuments of London & to have fun. Speed, emotions & smile guaranteed!
---
What you'll see
London Eye
Houses of Parliament
Somerset House
London Bridge
Tate Modern
Shakespeare's Globe
The Gherkin
The Shard
HMS Belfast
Tower Bridge
Canary Wharf
Cleopatra's Needle
St Paul's Cathedral
The Tower of London